These cards are based on characters and equipment from a neglected Konami franchise: Bokura no Taiou, or Boktai outside of Japan.
Link for research:
http://en.wikipedia.org/wiki/Boktai
Cards are based on characters from the second and third games in the series, as
I have not played the first game
I have finished the main story of the first game, so cards will also be based on that. Art, with few exceptions, is official artwork from the websites for the games or screens/sprites from the games.
Not all cards will be posted at once, as there are a lot of them. This thread will be updated periodically.
Set is finished for the moment.
OCG fixes will be appreciated, as I'm still unfamiliar with the 'new' OCG.
Also comments on balance; most of these were designed to be both flavourful and balanced.
Also, I am well aware that I dropped letters from some words on the cards (most notably, the 'r' from 'your' on a good number of cards) and am currently not going to put forth effort to fix it unless I need to make other changes to cards. i.e. Any comments about misspellings (especially 'you' instead of 'your') will be skimmed over.

Last card to be posted, and a fine headliner to the set.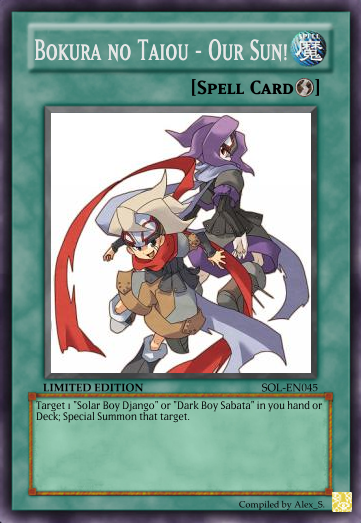 Bokura no Taiou - Our Sun!
Main Character and other main protagonists
Equipment used by main character
Boktai 1 End Boss and Support
Boktai 2 End Boss and End Boss Support
Boktai 3 End Boss and support
Django Upgrades from Boktai 3