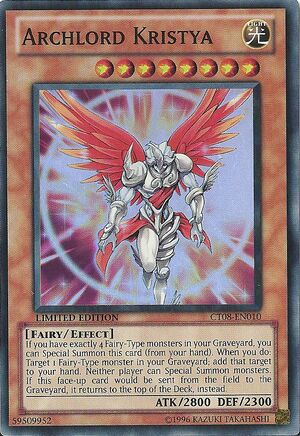 Lore:
If you have exactly 4 Fairy-Type monsters in your Graveyard, you can Special Summon this card (from your hand). When you do: Target 1 Fairy-Type monster in your Graveyard; add that target to your hand. Neither player can Special Summon monsters. If this face-up card would be sent from the field to the Graveyard, it returns to the top of the Deck, instead.
The fact is, this card is simply too amazing to not play!
-It has a special summoning ability that isn't too hard to pull off
-It has an oppression effect stopping a lot of major plays (Gorz, Judgment Dragon, Tragoedia, etc).
-It can fetch another fairy back to your hand from you're grave if it's special summoning requirement is met!