My Demonic Deck (Not Finished yet)
Started by
Coldwind
,
Aug 12 2012 09:18 PM
#1
Posted 12 August 2012 - 09:18 PM
Hey guys i started to make a new demon deck, hope you like it!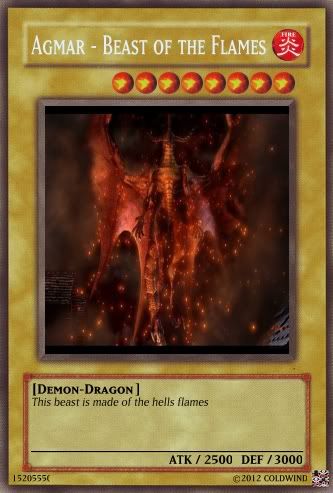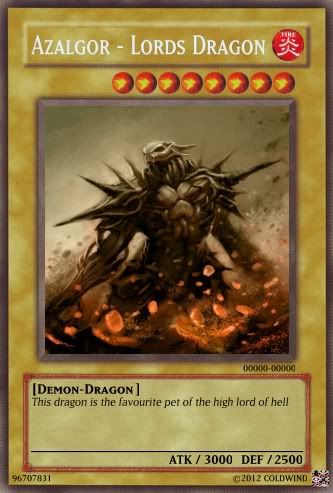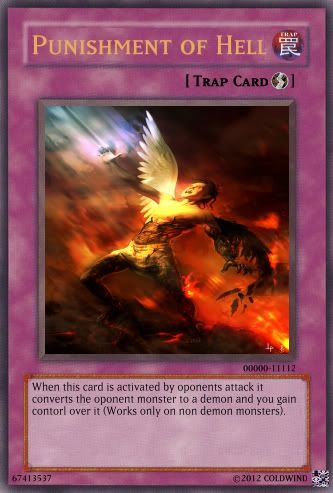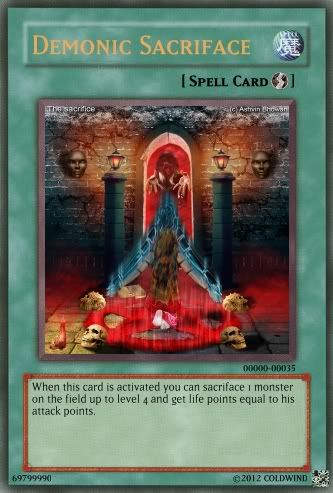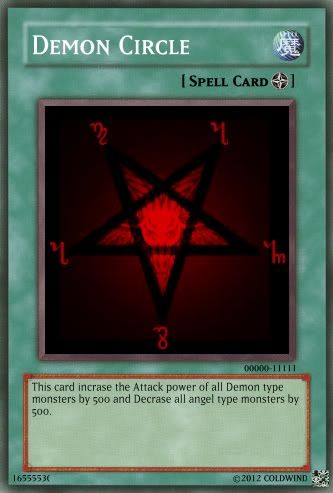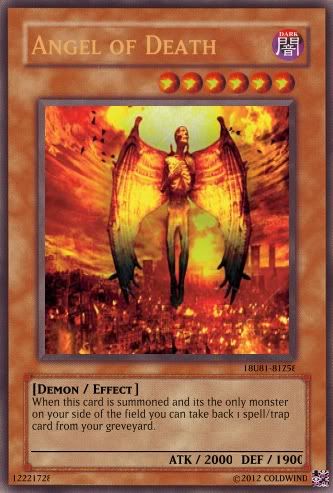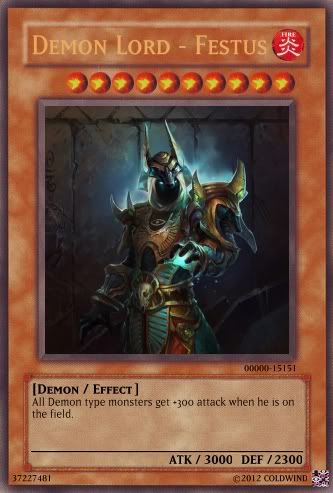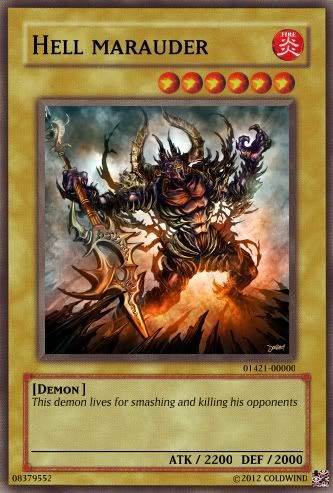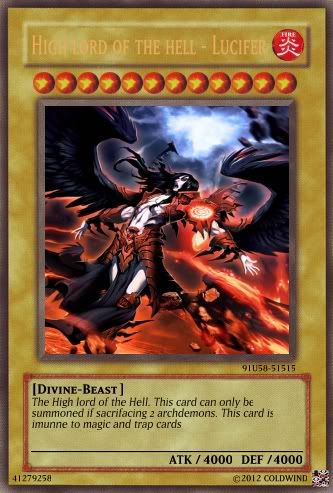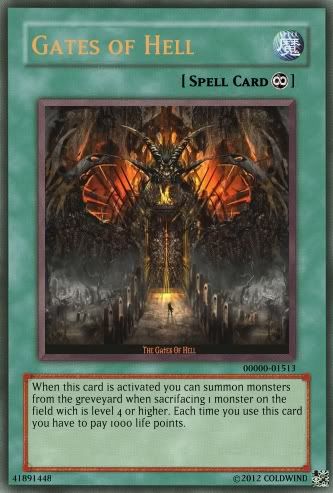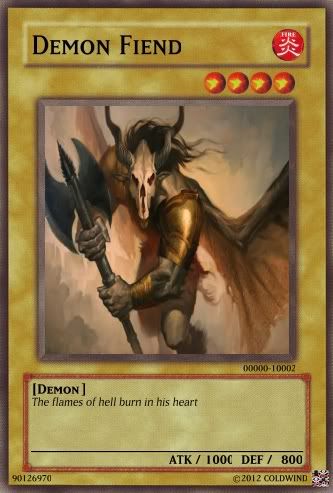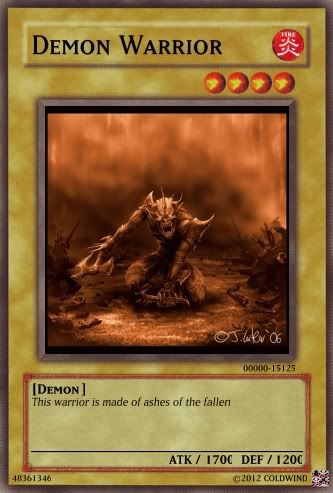 ---
#2
Posted 12 August 2012 - 09:35 PM
Demons are Fiends in this game. No dual-types.
Therodar and Azalgor are alright, Agmar sucks since 2500 is enough for it to get away with being Level 6.
Archdemon needs the full name of all of its Fusion Materials. Aside from its horrid OCG, it seems ok.
Punishment doesn't have to be a Counter Trap, but punishing your opponent for attacking with a non-Fiend by perma-Change of Heart'ing the attacker is a bit broken. If it lasted until the end of the turn, then it'd work.
Demonic Sacrifice is a much worse version of Mystik Wok.
Demon Circle is meh. The boost is nice, but the decrease is situational. And Angel should be Fairy.
Angel of Death is broken for its Spell retrieval effect. If it were only Traps, it would be better.
Archdemon of Cursed Souls is ok-ish. Running a Ritual Monster and Spell in the Deck makes it lose consistency, but it takes some dedication to make it really powerful. The Ritual Spell makes it really tricky since you need 2 Fiends whose Level equals exactly 10.
Festus is effectly a 3300 beater, which in himself is really powerful, but otherwise, he's not really useful at all.
Hell Marauder is a terrible Level 6 vanilla, 2200 is horribly weak for a 1-Tribute monster.
High Lord should be an Effect Monster. Since there are only two Archdemons here, he shouldn't be ran since it takes way too much effort to get out.
Gates of Hell: Uh... Does that say monster
s
? So you can Tribute some random thing like Archfiend Soldier and spam out of your Graveyard like crazy? If it's just one though, then it's still broken since it's a Monster Reborn on steroids, despite the cost.
Soulrender is too slow. I'd really prefer using Chaos Necromancer over this.
Demon Fiend is horrendously weak and would see no play anywhere. Same with Demon Warrior.
No, come back! Help me kill you!

Note: If I reply to your created card and you think I'm being mean, then just know that I'm not really trying to be mean. I'm only trying to help, but it's just a lot easier for me to state things bluntly than to coat it in sugar.
---
#3
Posted 12 August 2012 - 09:54 PM
No purpose in being mean SO I will say... No offense, but I can't even understand English grammar in these cards...
-DarkS33d
What chu' got?
Attention all, I have discovered the epicosity of YugiCo and I am going to start creating my cards there. Sorry YCM Card Maker, this one just seems better.
Chu' got nothing. Leave my signature.
---
---
0 user(s) are reading this topic
0 members, 0 guests, 0 anonymous users