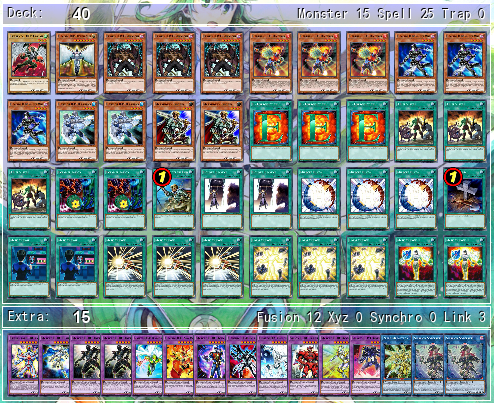 Yeah, I can post decklists too sometimes. So naturally, seeing as it's been so long since my last one (what was my last one anyway?), I'll post a decklist using the archetype that nobody plays anymore. HEROs. This came up when I gave Chaos Sonic - our resident HERO main - a bit of homework, which boiled down to "Make HEROs work in link format". We tried brainstorming a HERO-Gouki build at first, but that never got any traction. So in my off-time, I made this one myself, and after lots of testing, tweaking, and embarrassing misplays (remember kids, you can only use ONE Shadow Mist effect per turn!), I've got this deck to be about as good as my filthy casual hands can get it.
Pros:
+OTK machine
+Can do flashy plays
+It's a functional HERO deck what more do you want from me?
Cons:
-You have to play this shit pretty much perfectly or you lose (I don't play this shit perfectly)
-If you have to go first you probably lose
-Just in general you'll lose a lot; it's functional but not great by any means
Notes about some card choices
If anyone has any idea how to make this more functional, I'm all ears. I do kind of enjoy the glass cannon nature of the deck, but winning consistently is also nice.