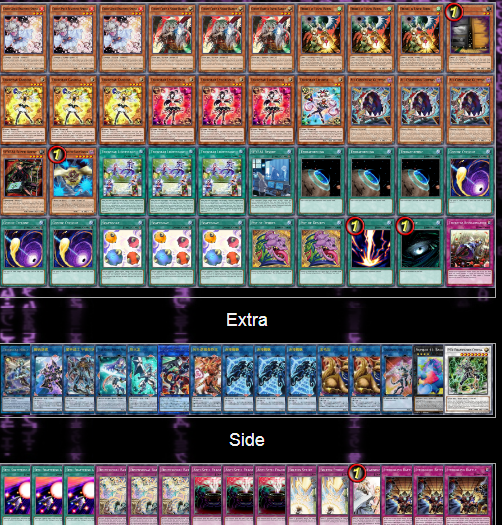 Monsters: 22
3 Ash Blossom
3 Ghost Ogre
3 Droll & Lock
1 Maxx "C"
3 Candina
3 Lycoris
1 Lilybell
3 Eater of Millions
1 Spyral Super Agent
1 Gofu
Spells: 17
3 Lightstage
3 Terraforming
3 Cosmic Cyclone
3 Scapegoat
2 Pot of Desires
1 Raigeki
1 Dark Hole
1 Spyral Resort
Traps: 1
Reincarnation
Extra deck: 15
1 Firewall Dragon
1 Borreload Dragon
1 Topologic Dragon
1 Ningrisu
1 Decode Talker
1 Gaia Saber
2 Missus Radiant
1 Ib
3 Link Spider (2 and 1 Linkuriboh when legal)
1 Bagooska
1 Omega
So this is how I played Trickstars before the regional deck list. I didn't have as much faith with this build back then as I do now because a lot of people on Facebook talked mad shit about 1 Reincarnation and the little Spyral Engine but I'll explain here since there has been a little resurgence of people talking about it again due to some OCG players adopting a similar srtyle.
I only played one Reincarnation because the one you search is really the only one that will impact the game. I kept drawing Reincarnations going second or opening them going first with no Drolls or ways to abuse it with Lycoris. I found it to be bricky so I dropped it to one. I believe the double Reincarnation + Droll combo to rip your opponents hand out is overrated by Trickstar players and people who fall victim to it. I can't remember the exact math I did or if it's even proper but it was after the first Reincarnation has fully resolved and they have drawn their cards they had something like a 65-70% chance to have opened Ashe Blossom or drawn into it from the first one to render the combo a waste of your cards. The other way to do the combo is to have your opponent use a card effect that searches, and after it has been added to their hand use your Reincarnation + Droll, but a good player will set their hand before they search due to the huge representation Trickstars are getting at tournaments.
Now onto Resort + Agent at 1. I used to play this in ABCs when Set Rotation was at 3 because I had some funny combos with it. Hard drawing Super Agent isn't an issue because of his effect. If it resolves fully that's great, but if it doesn't you get inside info on your opponent. Spyral Resort obviously is there to search Agent, but it also recycles monsters back into your deck for later use. I usually use it with hand traps, but if I get Super Agent in the grave I can go +1 again on my next turn and abuse his ass over and over.
One thing I do a lot is I'm known for playing exclusively Spyrals or Trickstars in my region (I travel a lot for yugayoh) I'll use Terraforming and search Agent. Use his effect to get info on what they are playing, set Scapegoat (they'll think it's Utility Wire) and pass. Hit crucial targets with any hand traps and watch them play around Utility Wire and then flip Scapegoat during the end phase for usually an easy play out on my turn.
I much prefer this version of the deck over the one I got my invite with at regionals, but I'm happy with the other deck as well because blinding second at the top tables and then deciding to go first against people who watched my game really fucked with them as to what was in my main deck.
If anyone has questions about combos, why I play a card over x, card ratios, etc I'm always down to talk theory.