This was an idea I had, but given that Sky Strikers and Gouki Knightmares are currently meta, would Chaos Ancient Gear Giant be a good anti-meta call?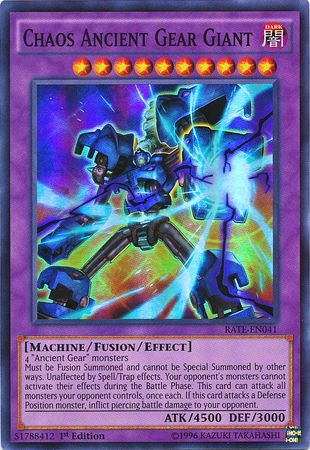 Chaos Ancient Gear Giant
Level 10 / Dark / Machine / Fusion / Effect
4500 attack / 3000 defense
4 "Ancient Gear" monsters
Must be Fusion Summoned and cannot be Special Summoned by other ways. Unaffected by Spell/Trap effects. Your opponent's monsters cannot activate their effects during the Battle Phase. This card can attack all monsters your opponent controls, once each. If this card attacks a Defense Position monster, inflict piercing battle damage to your opponent.
It might be a bit of a stretch to say it's a good anti-meta card, but looking at it's effects it's pretty solid once it hits the field. Your opponent cannot affect it with spells or traps, leaving Sky Striker behind with it's 4500 attack. Utopia the Lightning can't attack over it because of it's effects, and borreload can't steal it because of that same effect. If you power bond it it'll be at 9000 attack, and it can attack all monsters your opponent controls, destroying Knightmare boards in a single battle phase.
Basically, my idea is that if you summon this turn 1 against Sky Strikers, they probably won't be able to out it with anything, and if you summon it vs a Knightmare board you will be able to deal tons of damage ( possibly winning the duel with an otk over their field ). Kaijus might be a problem though.
Is this a good idea? It seems like a good idea, but I'm not sure.