Don't let its name fool you, it's definitely not "Hotrash". As a generic Link-3 it opens up 2 zones while in the extra zone, also on summon you may choose to move it to a zone it points to freeing up the extra zone. And that's not all, once per turn it can move a monster from the extra zone to a zone it points to yet again. I was not sure if this card's first 2 effects were too strong to be free to use or not, so I added a couple drawbacks: You can SS it only once per turn + if it leaves the field it blow up all your cards. Which I thought was pretty neat since it fits with the card's aesthetics.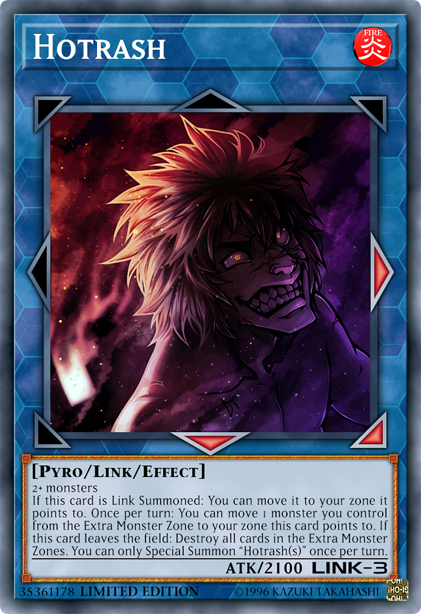 Hotrash

FIRE

Pyro / Link / Effect

2+ monsters
If this card is Link Summoned: You can move it to your zone it points to. Once per turn: You can move 1 monster you control from the Extra Monster Zone to your zone this card points to. If this card leaves the field: Destroy all cards in the Extra Monster Zones. You can only Special Summon "Hotrash(s)" once per turn.

ATK/ 2100 | LINK-3
First Link I ever made, also the first FIRE/Pyro Link ever?
Credits to the artist for the chosen card artwork.
Please comment/rate/fix etc. Some CnC is always very much appreciated.
~Peace & Love~