ALITERATION IS GOOD
ALITERATION IS GREAT
THAT IS ALL
ALSO THANK YOU BASED ZERPENS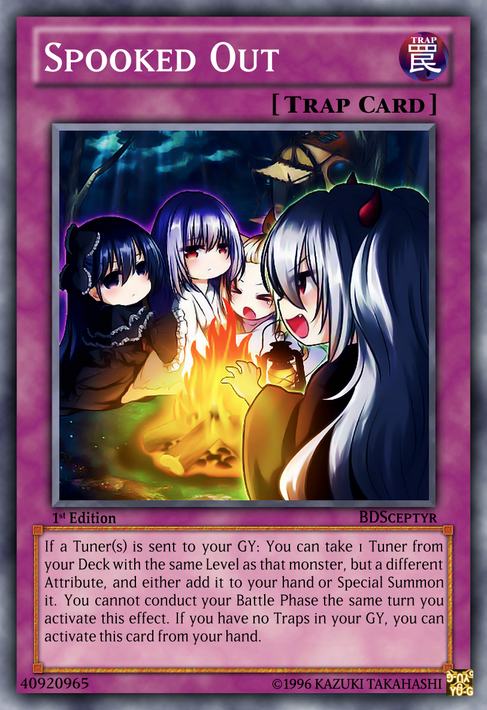 (actually that is not all since I've gotta provide some more context to this card to help salve that verbal whooping I'm about to get for making A GHOST GIRL SEARCHER)
So I actually took a look at Subterror Succession, a card that traded in Flip Monsters for monsters of similiar stats and vice versa, as well as stuff like Personal Spoofing, and got to thinking of the many Tuners in this game that take advantage of being in the GY for fleeting purposes. This was the original thing that this card did-mill similarly - Leveled Tuners into the GY, with the restriction of it having to be from the hand for this card to be removed.
Then I thought deeper on how much variety such cards entailed and the amount of stuff that prioritized Summoning stuff from the hand. Yes, this can be easily abused by those, but the usage of this for that purpose is limited, especially among handtraps. Even the Ghost Girls are hard OPTs, and it's mainly two specific ones that have trouble. I originally had this demand the Levels match instead of the Type; this change to same Types, and different Attributes reward a specific branch of variety that can help several Synchro Decks rise a bit. Being able to mill off a Spore in reaction to a departing Glow-Up Bulb, for example, is an amazing way to extend Plant Synchro strategies, and the various Psychic Tuners that can benefit from this boggle the mind as well.
That is what this card is meant to promote-and for those aforementioned Ghost Girls, you'll need to have a different-Attributed Zombie Tuner hit the GY for this to get you that Ash, one that Zombie Decks especially have no big issue getting with, say, Goblin Zombie. So better get those Ghost Belles/Reapers out if you want to profit, friends and friendettes
There we go, think that's enough backstory. I'll still want your inquiry on whether its busted, however.
Till the next card; reviews, revelry, you know the drill.
BD'S, signing off.
UPDATE I: Thanks to Darj's counsel, this card now operates on same Level/different Attribute physics, and allows you to Summon the Tuner from the Deck instead, but knocks out the Battle Phase on the turn you do so. Sure that won't be abused right Needlefiber?
Edited by Black D'Sceptyr, 09 December 2018 - 12:47 PM.