Did I put this in the same spot I made a video-famous Madolche Rank 3 almost three years earlier? Well yes I did and now you see just what lengths I'll go to to NOT have to address my lack of work on the Christmas set.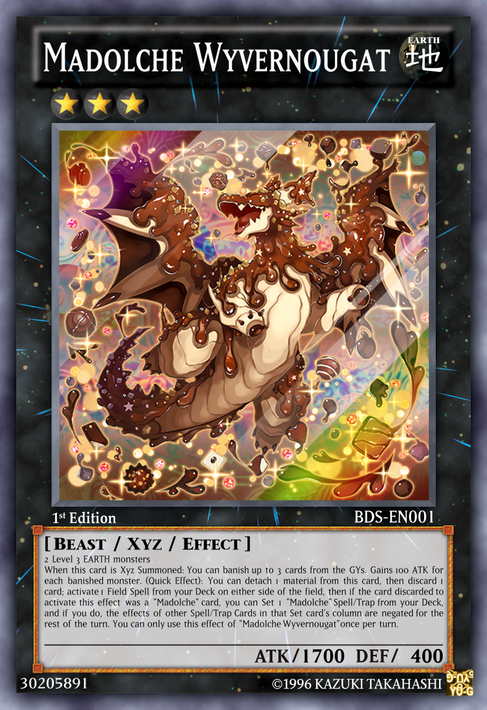 Madolche Wyvernougat: Info
But seriously, this picture by DeviArt's krysfun was begging for a sweet societal tie-in, and I obliged in kind because I'm nice like that. Pretty sure the ways to abuse that first effect will come all too well to anyone who's breathed air about the Seal of Orichalchos. So naturally, I demanded the material requirement be stringent enough...to include Psychic Wheelder. Have fun folks.
Does set stuff so it can't be immediately run, and it demands a discard to start the procedures off (aka cherries on top of the Hootcake),
Till the next card, reviews, revelry, you know the drill.
BD'S, signing off.
UPDATE I: ATK's at 1700 now, and the card gains 100 ATK for each banished monster, so some balance has been restored. Still not sure about making the requirements on this more strict-most stuff isn't EARTH, Level 3, and widely ran, though Wheelder could change that.
Edited by Black D'Sceptyr, 19 December 2018 - 06:32 AM.