AAAAAAAAAAAND
NEXT UP ON OUR RETURN EPISODE OF "LET'S MAKE THUNDER FUSIONS BUSTED FOR NO REASON", IT'S OUR NEWEST CONTESTANT, A GENERIC FUSION THAT WORKS ON FAIRY TRIBUTING AND HAS "THE WEATHER" IN ITS NAME, BECAUSE WHAT ARCHETYPES COULD POSSIBLY ABUSE THAT...
...GIVE IT UP (your Duel-winning chances, that is), FOOOOOOOOOR....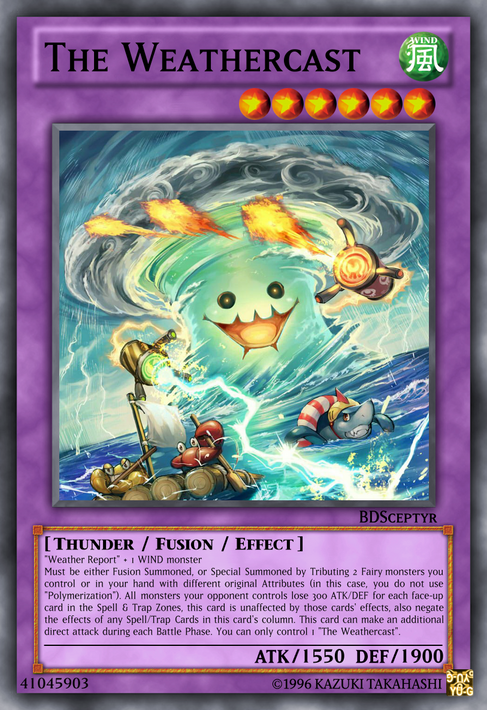 but really though contestants and contestees, this card's naming and Material requirements are a story all their own.
See, this card's Fusion Material requirements are both representative of Yugioh monsters past-the original requirements, obviously, of "Weather Report" and its opposing Attribute of WIND, while the second, alternate Summoning condition comes from the OCG-exclusive "Weather Control", a LIGHT Fairy Normal Monster.
Coincidentally, this card's Level, ATK and DEF are the combined Level/ATK/DEF of those two monsters, and its ability to make multiple attacks is reminiscent of Weather Report's ability to multiply your Battle Phases by destroying "Swords of Revealing Light".
So now that I've given you this short synopsis that I may have CTRL-C CTRL-Ved off of the DeviantArt page that I labored so long to bring to you-is it too good for what it offers? Column Spell/Trap negation isn't exactly an alien concept between the Mekk-Knights and Infinite Impermanance, second direct attacking seems dope until you realize this card's got 1550 ATK, and this card's power is more to interrupt already activated Continuous Spells/Traps than to smack down quick-played stuff. So certainly, it all balances out on the spreadsheet, yes?
Until the next card, then; reviews, revelry, you know the drill.
BD'S, signing off.