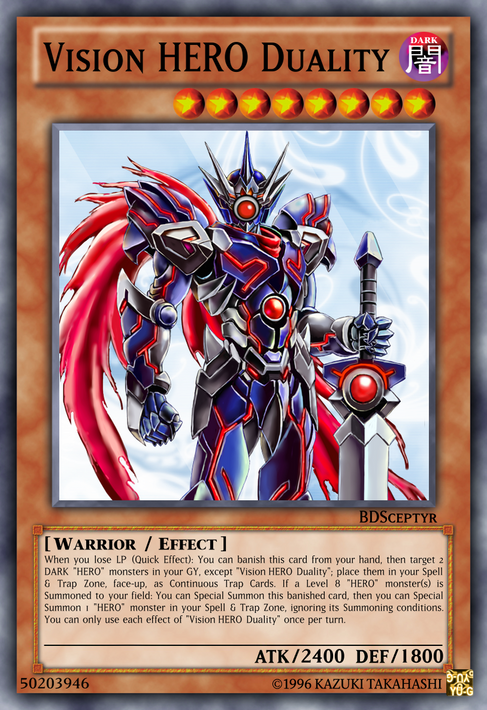 DARK/Warrior-Type Effect Monster/Level 8/2400 ATK/1800 DEF
Lore: When you lose LP (Quick Effect): You can banish this card from your hand, then target 2 DARK "HERO" monsters in your GY, except "Vision HERO Duality"; place them in your Spell & Trap Zone, face-up, as Continuous Trap Cards. If a Level 8 "HERO" monster(s) is Summoned to your field: You can Special Summon this banished card, then you can Special Summon 1 "HERO" monster in your Spell & Trap Zone, ignoring its Summoning conditions. You can only use each effect of "Vision HERO Duality" once per turn.
To continue the Visionary Parade for HEROes, I'm bringing you a way to get those Level 8s online. After all, Aster had two Level 8 Destiny HEROes to make full use of in the GX Anime - Plasma and Dogma-and so should his GX Manga self! And to that end.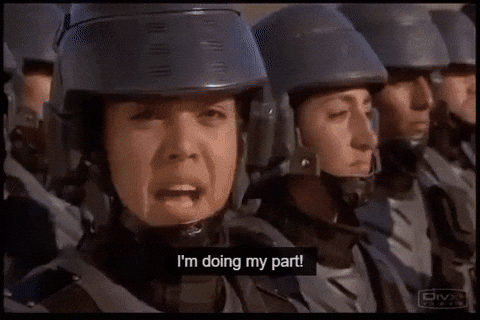 This time, it's generically supporting the only most meta part of the HERO branch, the DARK-Attribute HERO. Slap 2 of them into Spell & Trap Zones, then when a Level 8 monster (Meaning not Dark Law, Dangerous or Dominance, other good DARK HERO Fusions do exist folks) and it comes back while also bringing back an accompanying DARK HERO from the Spell & Trap Zone.
Should be easy to see how this can be utilized, especially considering it ignores Summoning conditions. Especially with Plasma still an utterly great stun-locker (seriously, Turn 2 issues my a$$) and also allows you to possibly run in Allure if needed-after all, you'll recoup the cost and more, especially if you manage to finish on Dystopia, Plasma, Anki, Dian or that new spicy Evil HERO Fusion!
Possibilities be endless, folks, make of them what you will.
Until the next card, reviews, revelry, you know the drill.
BD'S, signing off.