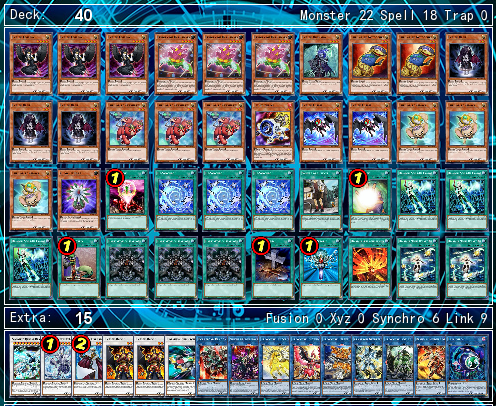 3 Stratos
3 Hattricker
1 Kushgod
2 Nozoochee
3 Monster Reborn
3 Cerburrel
1 Jet Synchron
2 Lurrie
3 Chawa
1 Grow-up Boi
1 141
3 De-Fusion
1 Where Arf Thou?
1 Soul Charge
3 Toon Table of Contents
1 Upstart
3 Dank World Dabbings
1 Foolish
1 Monster Reborn
1 Smashing Ground
2 Scapegoat
1 Quasar
1 Trish
1 Libtard
2 Pot of Greed
1 Vettel
1 Borrelboi
1 Magical Mallet
1 Horn of the Unicorn
1 Single Twister
1 Raigeki Break
1 Emergency Teleport
1 Seraphinite
1 Sky Slut
1 Linkuriboh
I have been doing what I can to try and make this functional and I've summoned Quasar thrice today so I'm feeling as happy as is possible. You want to get Saryuja out then get drawing off Ragin and if possible Librarian so you can eventually make Quasar and have it immediately die on the next turn. I hate this fucking deck. It's a shell of what it was pre-link and pre-Level Eater ban. I'm still changing the ratios around and the extra deck is terrible but I have no choice but to use links and the Knightmares are helpful in some respects, though not as much as you'd imagine. Overall it's a depressing experience. Sky Striker shit is good obviously. The spells pick themselves more or less. De-Synchro is ridiculous don't let anyone tell you otherwise.